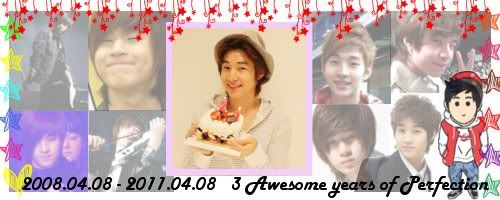 8th April 2008, Asia's Top Idol Group, Super Junior formed a new sub-unit, Super Junior M. This sub-unit was formed to target at the Mandarin Music market. Consisting of 4 Koreans, 2 Chinese, 1 Canadian Born Chinese, the group finally started out their long journey in China. Other than the 5 SJ members, it was a special day for the other 2 non-SJ members.
The one who left his hometown for Korea to realize his dreams.
The one who awed us with his awesome musical and dance talents.
The one who performs to his best once on stage, regardless of the audience's reactions.
The one who became the youngest in SJ-M, making Kyuhyun jealous forever.
The one who has chubby cheeks that everyone loves to pinch.
The one who doesn't like his small eyes, but we love him like this.
The one who works so hard but still thinks it's not good enough.
The one who makes Strings' hearts stop everytime he tweets.
The one who will forever have a spot in every Strings' hearts.
The one who never gave up but stayed strong till now…
Who is this?
HENRY LAU.
We are taking April 8th as Henry's official debut and Don't Don appearance as unofficial~ You might not agree with us but that's our interpretation~
Leave your messages for this AWESOME person as comments below~ Please take note this is for Henry, so please be Henry-centric. Even though it's M big day, it's his big day too~ This is not a fan project, but just a place for everyone to leave some words. Whether he sees it or not, we cannot be sure~ ^_^